Ten years ago, Joy Abdulrahman, a mother of two, was caught in a ghastly accident on her way to Nigeria's capital city, Abuja.
The incident left her confined to a wheelchair, and since then life has not been the same for the graduate of English literature. Joy lost her two-year-old daughter to the accident. Then in the middle of the chaos, her husband left due in part to the crash. According to her, she had become a burden.
"I lost my baby girl. My little girl was in the car with me; she died. And I became like this, paralysed from [the] waist down. Initially, when I just had this accident it was easy for me… Then my husband left. I now stay on my own, so I had to deal with that."
Joy's dimly-lit bedroom offers some respite from her frustration most of the time. "I can be there for one week and I will not come to the sitting room unless I have something to do outside. So you can imagine. All those things used to weigh me down but what will I do? … I want to go out because if I go out, I will see people, I will communicate, I will laugh."
The World Health Organisation (WHO) estimates that there are about 25 million Nigerians living with at least one form of disability. The most common of these are visual, hearing, physical, intellectual, and communication impairments.
In 2019, Nigeria's President Muhammadu Buhari signed into law the Discriminations Against Persons with Disabilities (Prohibition) Act. The law provides for the full integration of Persons With Disabilities (PWD) into society and prohibits discrimination on the basis of disabilities.
Today, it remains a drop in the ocean as persons with disabilities, like Joy, persistently face stigma, discrimination, and barriers to accessing basic social services and economic opportunities.
Her only offence
In 2017, Joy left her job at a microfinance bank in Gwagwalada after moving to Lugbe, another part of Abuja. She has since faced difficulties in finding a new job to cater for her family's needs. She says that most companies turn down her applications because of her disability.
"I've seen a lot," she says. "I still look for jobs and most times [when] I go for interviews, you know, immediately they see that I am in a wheelchair, they give me one story."
One of such happened when she applied for a job as a cashier in an organisation somewhere in Abuja and had attended virtual interviews with the organisation's management team. Not once, but twice.
She was hopeful she would get the job this time.
The excitement, however, only lasted the moment she got there for the physical interview. "I went there, do you know that they did not attend to me?" Her brows furrow in fresh disbelief. "I was there for close to three hours. They did not talk to me. They did not do anything. So I was like, what was I waiting for since nobody attended to me?"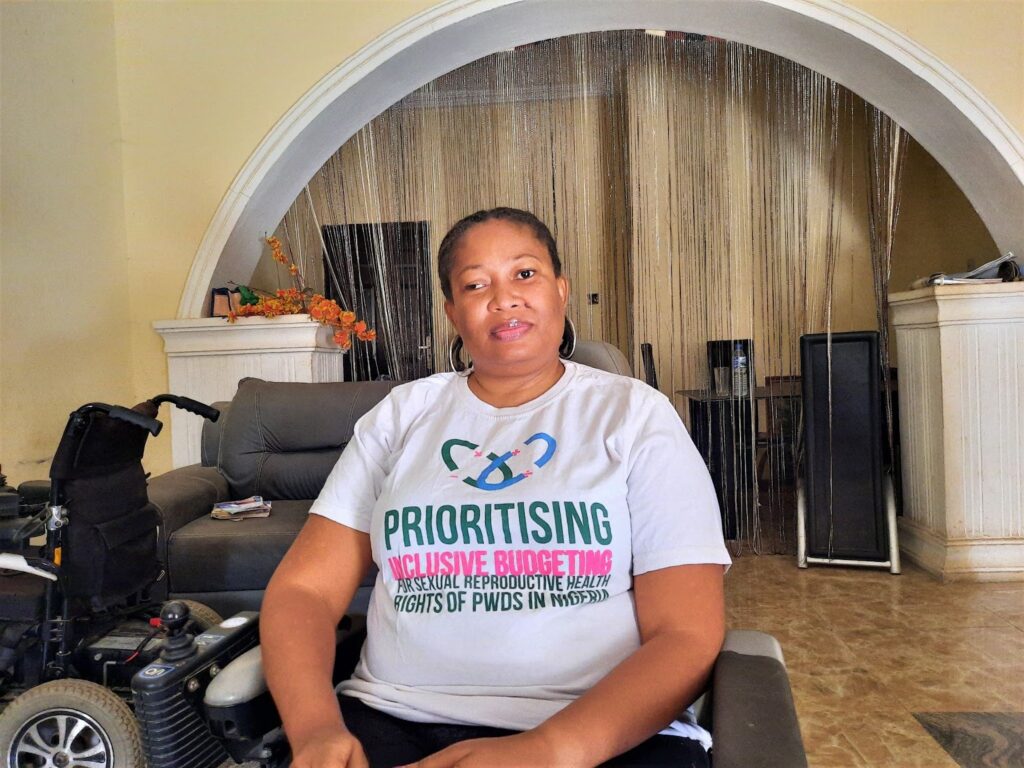 Frustrated, Joy reached out to an official of the organisation, but his response further dashed her expectations. "I was very angry. And even when the man came out, he told me the kind of cashier they are talking about includes helping them in the kitchen. Where does a cashier work in the kitchen? It was just a way of telling me they could not give me the job."
In another instance, she could not access a six-storey building where she was to meet her supposed employer for an interview.
Though Nigeria's law provides for equal employment opportunities for all and implores public organisations to have persons with disabilities constitute five per cent of employees, the unemployment rate among PWDs is almost double that of the general population. This, according to the World Health Organization (WHO), is due to attitudinal, mobility-related, technological, and physical barriers.
Violation of this provision, according to Section 28 (iii) of the Act, attracts nominal damage of a minimum of ₦500,000 payable to the affected person with a disability.
He has a job but…
Joy's story is not an isolated case. It is one of the challenges people living with disabilities bear in Nigeria, three years after the Act's passage.
Ibrahim Omotosho, 39, believes there is barely any flicker of hope for PWDs in the country, especially when he has to work twice as hard as others to convince his principal he is worthy of his job.
Omotosho was a child when he woke up one afternoon with an illness that almost took his life. He had only walked for 18 months before being diagnosed with the poliovirus that left him physically disabled.
"My mother told me I woke up crying and discovered that some parts of my body had been numb or paralysed. At first, I lost the use of my limbs, my hands and my legs and I was not able to sit properly. Upon doctors' reports and everything, they discovered that I had the poliovirus. Ever since then, I have been this way."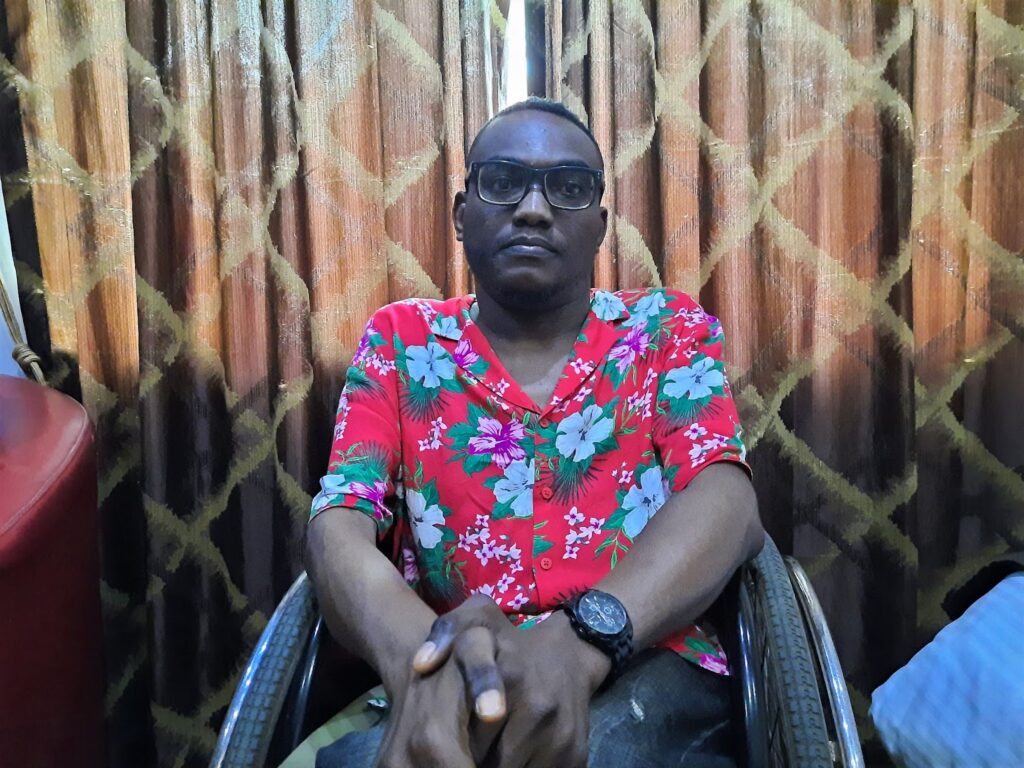 Unlike Joy, Omotosho, a graduate of computer engineering from the Lagos State University (LASU), was able to secure a job in an establishment in Lagos State. But this comes with a hefty price.
"We know unemployment is a major problem in Nigeria. Then for people with disabilities, it's like we have a two per cent chance or probably less than that, of getting a job in the country," he says. "Sometimes it's like a five-man job, just to prove that I am capable."
It gnaws at him that he has to work harder to keep his job or join an estimated 23.2 million unemployed Nigerians.
"People with disabilities seeking employment will continue to find it very hard in this country because it is not going to be easy for anyone to look in their direction. Employers are out there looking for cheaper labour, and are not ready to employ someone who will require extra care," says Liman Usman, a disability rights activist.
He points out that the discrimination PWDs face is largely due to the poor implementation of the Act. "Like every other law in Nigeria, the Act to protect people with disabilities only exists on paper, poorly implemented. It has not been able to make any visible impact as far as the rights of PWDs are concerned. What they are drafted to protect still remains unprotected." HumAngle
---